Dental Implants
Implants Act Like Your Natural Teeth
Replacing a single missing tooth can be most authentically accomplished with a single dental implant. The post of the implant mimics the root of your tooth while the dental crown looks and functions just like your natural tooth, requiring no additional maintenance.
Learn More About Denture Options
Implants Prevent Damage to Surrounding Teeth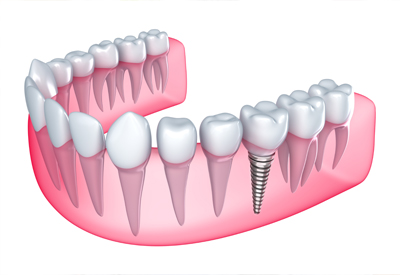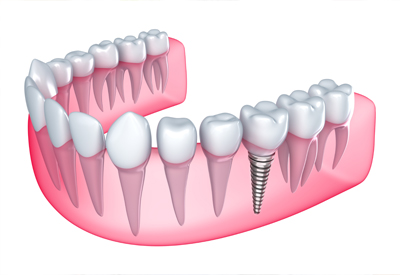 Benefits of Dental Implants Include:
The benefits that dental implants offer patients often prove to be more advantageous than other tooth replacement options.
Dental implants:
Can replace one or multiple teeth
Prevent bone loss
Promote overall oral health
Are impervious to decay
Offer an extremely secure fit
Meet a variety of needs
Single and Multiple Missing Teeth
Many people will lose their teeth at some point in their lifetime. This can happen earlier or later in life, and is frequently a result of periodontal disease. Most people who have experienced tooth loss want to find replacements, and Dr. Ryan Estes, Dr. Allison Marlow and Dr. Vidya Prabhu offers dental implants to replace missing teeth. If you have periodontal disease, we will first need to treat this condition to improve the success of your dental implants.
Dental implants are ideal to replace a single missing tooth. One implant can be placed at the site of the missing tooth without affecting surrounding teeth. A dental bridge can make surrounding healthy teeth more vulnerable to damage, as they rely on adjacent teeth for support. A removable partial denture can be uncomfortable or even embarrassing. Implants are incredibly flexible and can replace one tooth, multiple teeth, or all of your teeth.
Dental implant technology's flexibility also allows dental professionals such as Dr. Ryan Estes, Dr. Allison Marlow and Dr. Vidya Prabhu the ability to meet a variety of needs. Not only can implants replace any number of teeth, they can also support dentures. There are types of dental implant procedures that can replace an entire mouth of teeth for immediate use in just one visit.
Bone and tooth loss are often a result of periodontal disease. Since the implant is placed directly into the jaw bone, it stimulates the bone and helps to prevent further bone loss. A bridge or denture cannot offer this benefit. Preventing bone loss promotes not only good oral health, but your overall health as well. The likelihood of further bone loss in areas of tooth loss is diminished when implants are placed.
The placement in the jaw bone also creates an extremely secure fit. A properly healed dental implant will not become loose or shift.
Implants are proven to be highly effective and will outlast their tooth replacement counterparts. If you have lost teeth due to periodontal disease and would like to learn more about the benefits of dental implants in Florence and Highland Heights, KY, call Dr. Ryan Estes, Dr. Allison Marlow and Dr. Vidya Prabhu today!